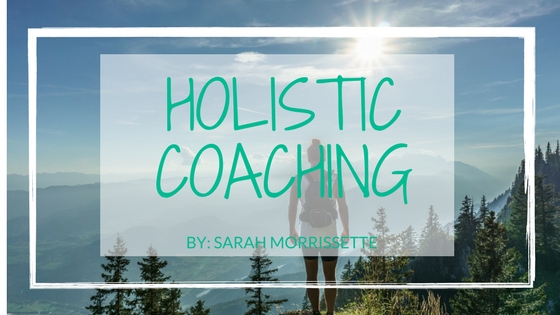 What is Holistic Coaching?
There may be many varieties of holistic coaching, however, the basic term refers to an idea of attending to the mind, body and spirit. Instead of just looking at specific aspects such as physical well-being (exercise, nutrition, etc.), a holistic coach tackles the bigger picture.  It is looking at the person as a whole.
A quote by the inspiring Ghandi, comes to mind when I think of holistic coaching, and it is this, "One man cannot do right in one department of life, whilst he is occupied in doing wrong in any other department. Life is one indivisible whole."
For instance, if someone is exercising and eating right but then, is constantly beating themselves up through negative self-talk, well, they probably aren't going to stick to this new "healthy" routine for very long. The subconscious mind will allow self-sabotage to happen.
OK, but then you might say, "Maybe I can just say a bunch of positive affirmations every day. That will work right?" Well, actually it may at first but then, you are not looking at the "spirit" or "energy" aspect of it. So, your conscious mind will battle your subconscious and unfortunately, if the ethereal aspects are not looked at, your subconscious will win.  This is because we all have been engrained to think a certain way and do things a certain way. We are victims of our habits.
Holistic Coaching is about changing each aspect, in a manner that is most beneficial for optimal results. It changes your habits, and empowers you to make better choices.
So, how do we deal with the Spirit aspect? Well, as an Energy Therapist, I will utilize these tools and healing techniques to allow your highest good to come forth. Negative aspects of the mind and the energetic level will be addressed and then, this will allow an easy transition for your body to follow.
The Steps of Coaching
Evaluation: This may sound scary but it is simply a tool that allows me to get a good idea of your goals and what we need to do first, in order to best help your situation. You will be sent an e-mail form to fill out, which is formatted as a "survey" type of document. However, you are able to opt out of any of the questions.

Consultation: This will be taken place over the phone or Skype (or another video chat format) and is 60 minutes long. We will discuss your answers on the form that was filled out and we will clarify all aspects. Next, we will devise an action plan for us to best achieve your goals.

1st Coaching Session: We will be going through your UNIQUE action plan that we came up together. This may include; a writing exercise, energy therapy work, artistic expression for healing purposes, meditation exercise, a walk-through of a yoga or similar physical activity, etc.

Following Coaching Sessions: Depending on your unique plan to better your life, we will do similar exercises as the ones above. I will work with you through phone, Skype, chat and e-mail. Chat and e-mail will be an additional option to your payment plan and is highly recommended, since we all have "bad days" and we may have a pressing issue we want to bring up but, our next session is not until a few days later. This allows you to reach out for immediate support. You are always welcome to do this regardless but I may not be able to get back to you as quickly. Or, I may have to save your questions for our next session.

Wrapping- Up Session: In this session, we will go through your evaluation form again and take a fresh look on your goals, what you achieved, what still needs improvement, etc. From here you will decide if you want to continue with me as your coach or move on. Either way, I will provide you with several "at-home" tools so you can continue with your healing journey.
Pricing
Evaluation and 30min Follow-Up Consultation: FREE
Coaching Session Options:
Individual Session:  $80/hr
2- Week Intensive (a session every second day): $539
1 Month Express (a session 2x/week for 5 weeks): $749
3 Month Package (1x/week): $1149
6 Month Package (1x/week): $2349
Upgrade your Package with the additional E-mail and Chat Support Option (2-week intensive and 1 month express already includes this) : $100 per month
Payment Plans
The Upgrade mentioned above will be set-up as a payment plan, either 3 or 6 months, depending on your coaching package. For the 6 month plan, choose the option below, and then once we are at the 3 month mark, you would simply set it up again for another 3 months, if you choose to do so.
Freedom Awaits...
Subscribe to get my favourite healing tool to bust anxiety, relieve stress and other difficult emotions!